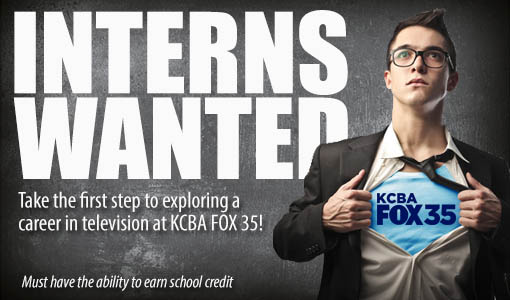 The Digital Marketing Internship at KCBA FOX 35 (UNPAID) will provide an opportunity for students to possess strong knowledge of the digital media landscape and gain valuable online media experience at a television station. The internship will focus on three main categories below: social media, promotions and website management.
Social Media: The intern will help manage KCBA FOX 35's Facebook, Instagram and Twitter and share a variety of posts including FOX prime programming, KTVU news, KCBA FOX 35 contests and community calendar events. The intern will also monitor the social media channels for any activity, responding promptly to feedback, questions or concerns.
Promotions: The intern will be exposed to all stages of creating local promotions, from writing proposals, scripts and contest rules to producing landing pages, social media graphics and commercials. The intern will also learn how to brainstorm creative ideas to give away FOX merchandise and other prizes, utilizing social media to engage participants.
Website Management: The intern will learn how to operate and optimize the KCBA FOX 35 website, performing daily content management and using the WordPress backend to upload news stories, graphics and community calendar events.
Qualifications:
Must be a student from an accredited university or college receiving scholarly credit for the internship
Ability to provide copy of academic transcript/schedule
Knowledge of social media platforms (Facebook, Instagram and Twitter)
Interest in digital marketing and television
Eagerness to learn and contribute new ideas
Excellent communication, writing and computer skills
If this internship sounds like the right fit for you, please e-mail your resume to 

kspadone@entravision.com

for consideration.